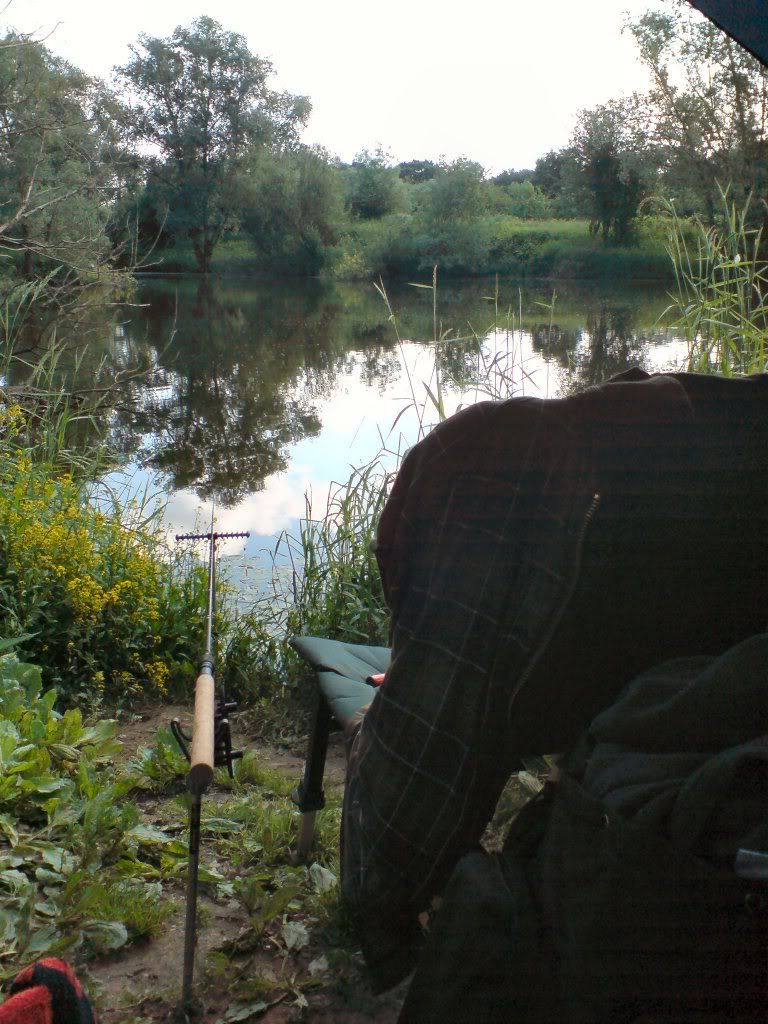 Last Saturday I was fishing at one of my favourite spots, the subject of the photograph at the head of this page. There are two old brick pits, close together and adjacent to Big River. The fishing is varied – and difficult. At least, it is difficult to catch fish of a decent size, of which there are many. In early season, tench may be had by early risers, followed by decent bream, roach, perch and rudd throughout the day, if the correct methods are applied, and well.
Between the two pools there are many fishable pitches, but far fewer are the number fished often by regulars. The regulars (and I count myself as one, having fished the place since the 70s) know by experience where best to gently cast a bait, usually into swims where the bottom falls away into deeper holes.
I had spent the morning enswathed within a cold, stifling mist, failing to catch tench, although there were certainly tench in my swim. I was not despondent, however: many fish had come to the net and, although the intended quarry had not been among them, I was content within the peaceful and eerily beautiful surroundings.
At about 11.30 the sun, which had been attempting all morning to evaporate the wet, grey blanket of fog, finally broke through. With astounding rapidity the shroud dispersed and gentle shivering turned to languid basking as the temperature rose.
It was at this point that I became aware of a plaintive voice coming from the levee behind me. The speaker was partly obscured by foliage, but he was asking if I'd mind if he "squeezed in next to me".
I was taken aback, to put it mildly. I was fishing from a tiny promontory where, at a push, I might have acquiesced to a like-minded close friend joining me. I had not, however, imagined sharing the space with anyone else. I had assumed, having planted my flag at 6.30 am, that I would have the pitch to myself for the remainder of the day. This chap had some neck, I thought. I sputtered something about it being Okay, whilst attempting to conceal my true thoughts concerning the awkward position in which the fellow placed me.
He made his way down the bank; it became clear that he had stopped at the bottom; there followed an uncomfortable hiatus. I turned to face him.
There stood one of those characters who, for no easily explained reason, evokes profound sympathy. A little old man, much older than I'd expected – perhaps pushing eighty – wearing thick spectacles, wellingtons and a flat cap. The row of gold incisors in his lower jaw glinted in the sunlight. My initial thought was to wonder how he'd made it across the fields unsupervised. He stood, tackle bag over one shoulder, holdall over the other, staring dejectedly at what he saw, which was me, fishing the pitch upon which he, clearly, had set his heart.
After a further uncomfortable pause I said, "Alright?" as brightly as I could, eager not to compound his despair.
"Oh," he said, glumly and, I thought, slightly pointlessly, "you're fishing there are you?"
It dawned on me that, not only had he wanted to fish from my little promontory, he wanted also to fish the exact spot where I had chosen to cast. Feeling faintly ridiculous, and gesturing vaguely at my float, I informed him (I'm ashamed to say in the manner of one addressing a particularly dim child) that, actually, I was fishing the area he so obviously coveted.
By now, the initial surge of his disappointment having evidently subsided, and, having regained, as a result, a little composure, he offered wistfully; "I had forty-odd fish out of there Wednesday afternoon..."
"Oh… what kind?" I asked, unsure which direction the conversation was taking.
"Small roach and perch – I had a bream on - 'bout three or four pound, but I lost him." he continued in the same detached manner. "Oh well," he sighed, apparently now resigned to his fate, "I'll go and fish the other pool."
"Good luck!" said I, a little too quickly.
As soon as he had gone I began to analyse our interchange. Had he, and I, acted entirely scrupulously? Initially, I had felt that the old boy had a bit of a nerve. I was clearly in the pitch; I had baited the swim and had risen at quarter to six that morning to ensure I got it.
He, on the other hand, had turned up halfway through the day, and had admitted fishing the spot only three days previously. Presumably, being well past retirement age, he was able to go fishing as and when he pleased. I, unfortunately, am incarcerated in an office on weekdays.
He had not been impolite. When he left me I had heard him talking to a couple he clearly knew, who were walking their dog along the riverbank, informing them cheerfully that "…that gentleman…" (me) was fishing where he had wanted to go.
I concluded that, while I was within my rights to stand my ground, his momentary loss of composure could be wholly forgiven, as it was surely a manifestation of his undimmed enthusiasm for fishing. Was it not heartening that the old man's excitement still burned so brightly, even at his advanced age? Was it not wonderful that the rashness and exuberance of youth still bubbled so close beneath the surface?