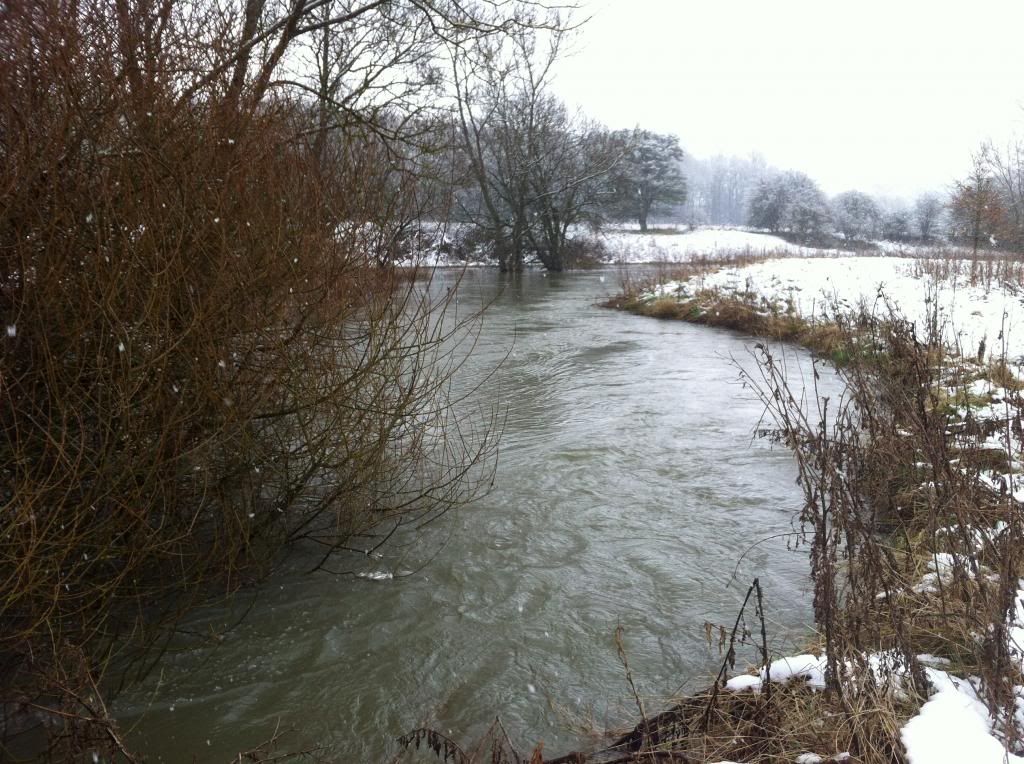 On the way home from work, in the crepuscular half light of last Friday evening, Will and I could be seen mincing furtively across the tiered lawns of The Fox at Great Barrington. Mincing because maintaining purchase on the treacherous, slippery grass in our grip-less work shoes was tricky; furtive because we had no intention of purchasing a pint from that ancient and noble inn, merely wanting to ascertain the condition of the Windrush with a view to my fishing it the next day. Such dishonourable behaviour weighs heavy on the conscience of an Englishman.
Having had a gander, I looked at Will, a non-fisherman, and smiled. The water was fining, I explained, but with a touch of colour still, and the flow was healthy without being overly robust. Perfect, I continued, for a session the next morning trying for chub on bread flake. As we scurried back to the still-running car I told of my attempts to catch anything other than out-of-season stockies (plus some decent dace, it must be conceded) from the river, upon certain stretches of which my club allows coarse fishing outside of the fly season. Will's a good fellow, and nodded appreciatively, but I might as well have been talking in Urdu.
I didn't go on Saturday - sleet. I could have, I suppose, had my sense of purpose not been dehydrated by weeks of non-angling (see previous post). I had, however, booked Monday (today) off and thought I'd be in for a better day of it after the light flurries of snow promised by the Met Office had passed.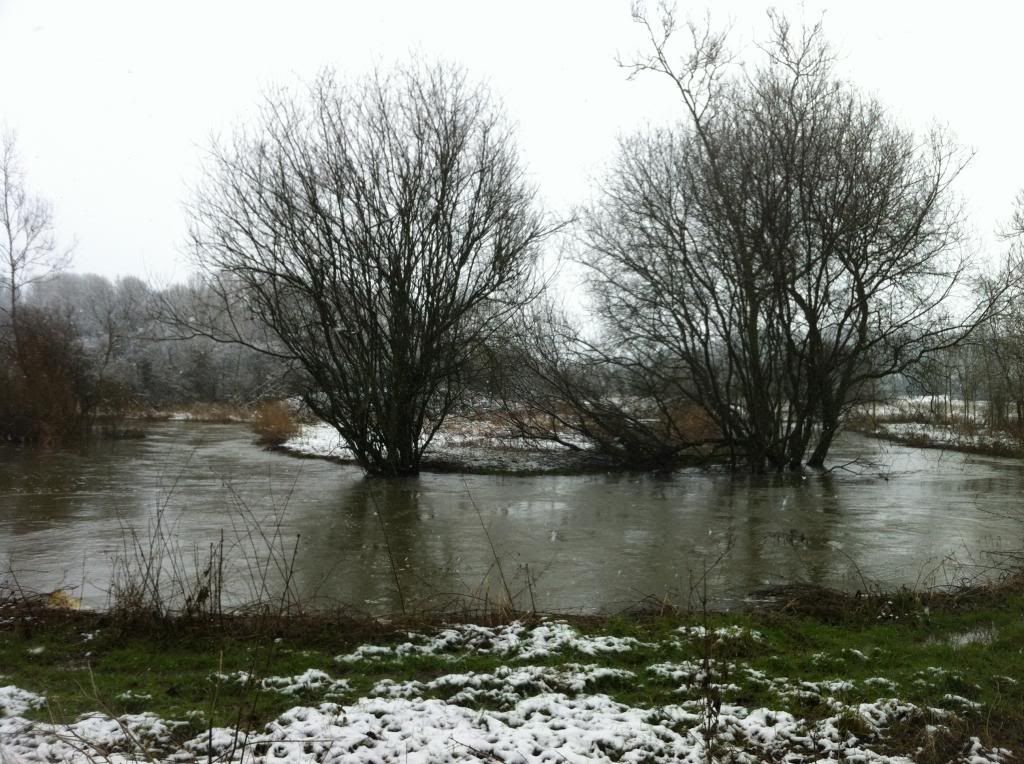 So I set off this morning, pausing only to procure a large loaf of Warburton's Toastie (surely developed solely for fishing, for which it's brilliant - but does anyone actually eat the stuff?) and tootled off up the A40. Motoring up the Cotswold escarpment out of Cheltenham I noticed the vehicles coming the other way were mostly caked in a healthy covering of snow. Sure enough, upon arrival at the place I'd been thinking of since Friday night, the snow lay shallow and slushy and uneven. The river was well up and very cold. Not for the first time, I thought I'd rather take a walk than fish. After all, as narrator Bernard opines many, many, many times in the peerless A Passion for Angling, fishing is, quite often, just an excuse for being there.
I drove from Asthall back along the A40 to Sherborne, where the Windrush meanders beguilingly through water meadows. Last summer I had sneaked up on a fallow deer and her foal here, watching them standing in midstream taking long draughts of crystal clear water. Inevitably they eventually caught a whiff of my revolting Barbour and galumphed splashily to the far bank and legged it, like Bambi and his mummy. Today, though, was somewhat different. The going was soft to underwater in places, but there were interesting things to see; Huge flocks of redwing and an enormous one of fieldfare - I estimated 400 to 500 of them - flew directly over my head. A group of Canada geese relinquished their stronghold en-masse upon spotting me, making me feel quite guilty; it always seems to me to be such a to-do for them to get airborne, and so I doffed my cap to them apologetically as the flock circled over me, honking madly, before disappearing behind a stand of poplar.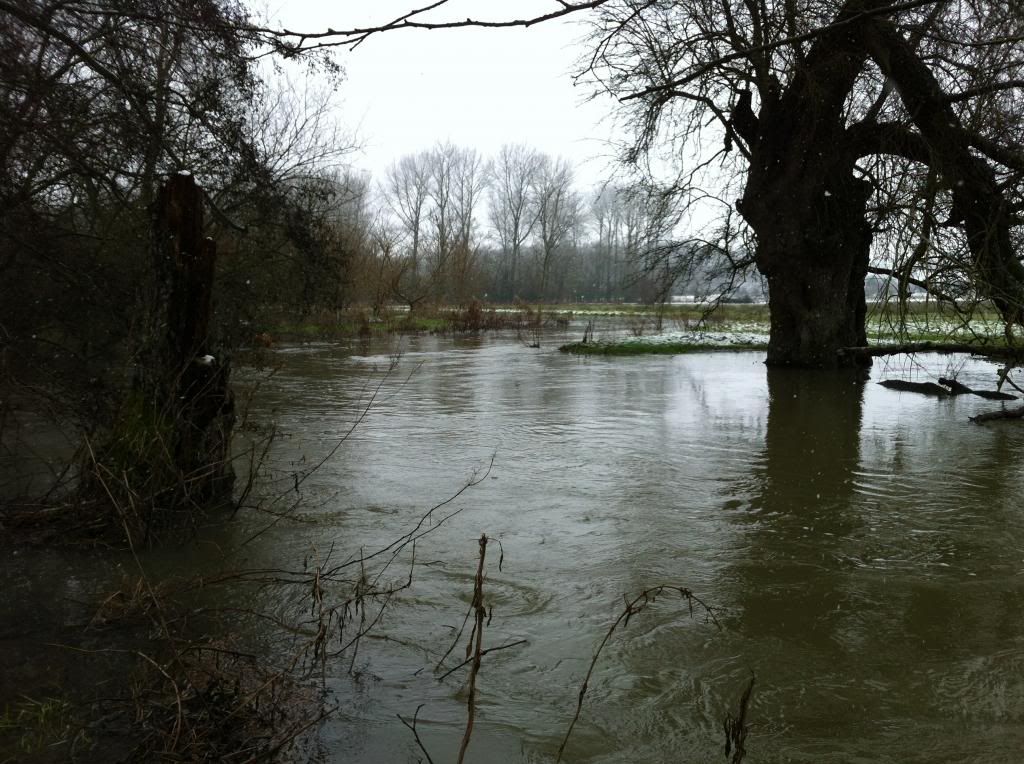 The final part of the riverside portion of my walk was slightly fraught. I had chosen wellies, rather than waders, and the water was sloshing perilously close to my boot tops by the time I'd reached the bridge over the confluence of the Sherborne Brook and the Windrush. I made it eventually, having smoked a contemplative roll-up while deciding whether to turn back or continue, calf-high in fast flowing flood water.
Why do herons stand in the middle of fields? When, finally, I reached higher ground I could see four of them in the next one, standing in a perfectly spaced line, 250yds away. They immediately sensed the threat and launched into the air, lumbering away on m-shaped wings. Clearly their eyes have evolved the capability not only to spot darting fish at very close range, but to spot potential predators at considerable distances, quite remarkable.

I'd spotted a couple of chubby-looking eddies on my walk which invited a chuck, but I wasn't too bothered - this particular beat isn't available for coarse fishing anyway - I was happy to have been alone in the watery, slushy landscape, committing
it all to memory for when I revisit in spring, 3wt 7" rod in hand and a fly box full of blue winged olives in my pocket.
I drove home and had cheese on toast on Warburton's Toastie...
Apologies for the poor quality pics - iphone I'm afraid.