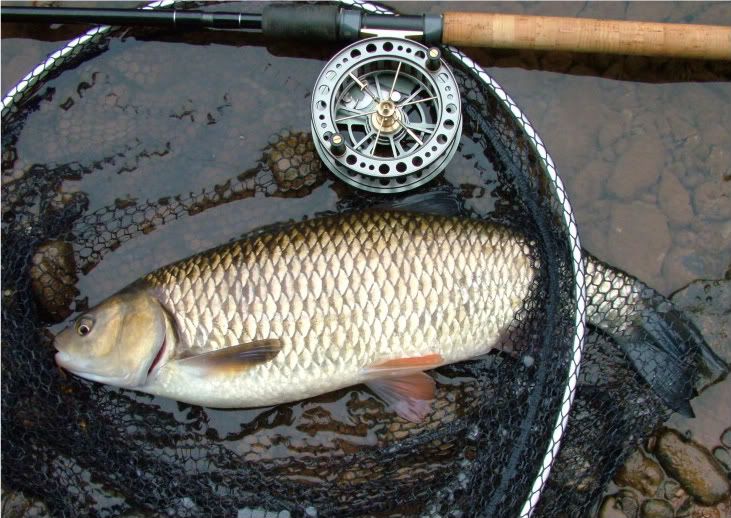 Chub on trotted bronze maggot
I love chubbing at this time of year. The languid and lazy fish of summer are transformed, in the blink of an equinox, into a quarry well worth stalking. Last week I took a rod, a reel and a box of bronze maggots and went trotting.
If, like me, you're lucky enough to know of a stretch where chub average 3 – 5lbs this is a great way to fish. Obviously, if there are lots of smaller fish in the water, larger fish have to be singled out with larger, or more imaginative, baits. Bread, lobs, corn, meat, cheese, slugs etc. are examples typically recommended, but bronze maggot is tops when all the fish in the swim are a decent size.
Maggots are a great bait for many reasons. They resemble many naturals – nymphs, etc; they stay on the hook; they smell good – to fish anyway; they can be introduced as loose bait very easily and in consistent quantity; they give very good indication of having been nibbled, sucked, etc. and they are readily available.
I use 6lb mainline on a centrepin, a 15' fast action rod and trot an avon down through any likely spot I come across. If chub are there and 'in the mood' it won't take them long to find the bait, assuming due consideration is paid to matters of stealth. I usually make up hooklengths from narrow diameter resin impregnated mono with a 3.75lb b.s. (Preston Reflo Powerline is good). Hooks, in appropriate sizes– usually 16 or 18 for maggot - are Drennan Specialist Barbless.
Autumn trotting for chub with maggot is a very simple way to fish, but the rewards are great if you can find suitable water and approach your chosen swims with as much stealth as possible.
The fish pictured weighed just under 4lb, took a single bronze maggot, and put up a tremendous scrap in a decent flow.